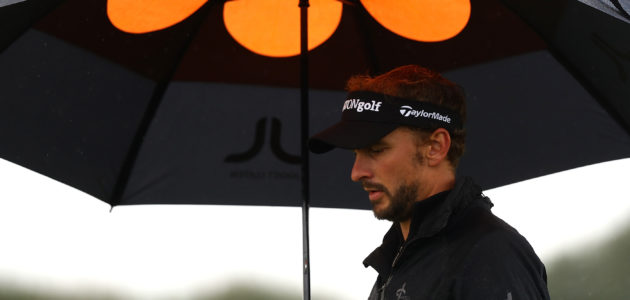 Reigning Champion Joost digs deep
Storms and heavy rainfall stop play in KLM Open
Joost Luiten has left himself with an awful lot of work to do if he is to successfully defend his KLM Open title at The Dutch this week (14-17 September).  The Dutchman opened the 98th edition of the Dutch Open Championship at the inland-links course in Spijk with a round of 75, 4-over par.  And that was in the good weather before the rain set in.
Starting at the 10th hole, Luiten struggled on the first few holes making four consecutive bogeys.  One of his playing partners meanwhile was reaping the benefit of the early start.  The best of the weather was inspiring Bernd Wiesberger to produce some of the same good form that saw him finish as runner-up to Luiten in 2016.  Now, with just a few holes to go, the Austrian had taken the early lead at 5-under par.
At 4-over par with just four holes left to play, Holland's star player had not managed to clawback a single shot since his disastrous start.  Nothing seemed to be going his way.  He had struggled all morning, even hitting "three missers with the driver", as he admitted himself after finishing his round with four straight pars to eventually sign for a 75.
Course waterlogged and unplayable
Precisely as forecast, the weather did close in during the afternoon.  Heavy showers and gale-force winds led to the already sodden course being declared "waterlogged and unplayable" at just before 15.00 hours local time.  Play would be resumed at 08.00 hours on Friday morning.
Now that could be good news for Joost.  As a number of players have still to start their first round, it means that his second round will begin much later in the afternoon on Friday giving him chance to get his head together in preparation for a cracking good second round.  He is going to need one, if he is to survive the cut.
However, although there is cause for concern, there is no need to panic.  Joost can turn things around with the flip of a coin.  Look at 2016.  He came into the tournament with few expectations after a lean period on Tour.  Then, during a practice session with his swing coach, Phil Allen just two days before the start of the tournament, they hit upon the solution.  A tweak of his swing and Joost was back in business.  His confidence soared and his scores lowered.
Energy zappers
Naturally, there is always added pressure being the defending champion, and even more so when you are the home-grown champion as well as the ambassador of the event.  Press conferences, press moments, pro-ams and sponsors' commitments are all part of the job in being a top-class tournament pro, but they can also be energy and concentration zappers.
If Joost can get into the "zone" again out on the course, just as he did last year, then anything can happen.   The Dutch in Gelderland is his home course where he trains, so he knows it better than any other player on the European Tour.  Joost is a fighter.  He knows how to dig deep.  A fresh start late Friday afternoon could see him play at least nine holes of his second round before darkness falls.
Joost, the movie
Whatever happens Joost will be playing at the weekend, or at least on Saturday morning. But if he does not manage to settle down into a good rhythm, he will be just finishing off the back nine of his second round and heading back home to Rotterdam instead of making the cut and starting his ascent up the leaderboard in round three.
Sound advice would be to watch the video of the brilliant 63 that he shot on Sunday in last year's KLM Open on his way to a three-shot victory.  Yes, by reliving that glorious round which gave him the winning tally of 19-under par (69, 64, 69, 63) and equal the tournament record, maybe Joost might just get back into the winning zone.
"Proost Joost!"
Wendy Hoad
KLM OPEN LEADERBOARD
INTERIM DAY ONE LEADERS after 18 holes before rain stopped play: Bernd Wiesberger (Austria) and Richard Finch (England) on -5.
INTERIM DAY TWO LEADERS so far after 36 holes: Joël Stalter (France) -10; Sebastian Heisele (Germany) -8. Bernd Wiesberger (Austria) –5 (after 30 holes).
Play of the second round is due to resume at 08.00 hours on Saturday morning.  For further information and latest scores: KLM Open or check out the European Tour.
Other leading Dutch scores after 36 holes:  Wil Besseling (3 under), Daan Huizing (2 under)
With second rounds not yet completed: Max Albertus (4 under), Maarten Lafeber (Level par)
PICTURED: Joost Luiten (Photo courtesy of Getty Images)