WELCOME to Golfing Inspirations!  One year on and we're delighted to say that we're in full swing!  And what a year it has been!
On Thursday, 10th September 2015, we pushed the button and went 'live' on the opening day of the KLM Open at the Kennemer G&CC.  After months of preparation and burning the midnight oil, 'Golfing Inspirations', thought to be the first Anglo-Dutch golf website, was ready to embrace and inspire the world.
Essentially English with a hint of Dutch
Yes, we teed-off amidst the hustle and bustle of a European Tour event: the 96th edition of the Dutch Open.  The week was made extra special with American golf legend Tom Watson making his debut at the beautiful links course in Zandvoort.   We had the honour of being there with the gathered golf paparazzi to interview him and capture his warm smile and that pure, timeless swing of his on camera.
But Golfing Inspirations is not just about the big names on Tour.  Humble encounters with everyday golfers also intrigue us.  Inspirational tales of triumph (and woe).  Simple moments of inspiration.  The wonderful etiquette and traditions of the game.  The making of new friends and fun aspect of golf.  It's an introduction to the world of fresh air and lush green, rolling fairways.  Golf is a marvellous way to clear the mind.  You can't beat that invigorating feeling of space and freedom as you step onto the first tee …!
In a nutshell, Golfing Inspirations is a wonderful source of online golfing inspiration, essentially English with a hint of Dutch, created simply to inspire you to play more golf.
With a little more time on our hands the coming months, we'll be heading-off again in search of more tranquil fairways around the globe while staying in some rather unusual and exquisite 'B&B' accommodation.
First stop this Summer: England.  What a delight it was to take a trip down memory lane and rediscover the joys of playing some of the fairways from my youth.  South East England is a treasure-trove of golfing gems.  Keep an eye on 'Course Reviews' during the coming weeks.
Get happy.  Play golf!
Simply put, we'd like to inspire everyone to give golf a go.  Hence, our motto: "Get happy.  Play golf!"
By the way, we'll be celebrating our First Birthday at The Dutch.  The golf course in Spijk in the middle of Holland plays host to the KLM Open (8-11 September) for the first time fulfilling the dream of a clan of Scottish golf pro's based in the Netherlands to host a prestigious tournament on their new, and rather exclusive, Colin Montgomerie-designed course.  It's a break with tradition as The Dutch becomes only the eleventh course to host the Dutch Open since it began way back in 1912.
This year there's a chance to see one of Captain Darren Clarke's freshly-picked 2016 Ryder Cup Wildcards in action – the almost too-hot-to handle young Belgian, Thomas Pieters.  He is in Holland this week looking to defend his 2015 title along with a few Ryder Cup team mates who are also making their debut this year at Hazeltine GC, USA: Chris Wood, Rafa Cabrera-Bello and Andy Sullivan.
Maybe see you at The Dutch!
Enjoy the golfing life!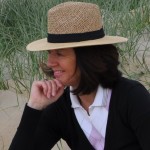 Wendy Hoad
Editor
LEARN MORE ABOUT Wendy Hoad and her passion for golf.
© Photography by Golfing Inspirations/Helena van Dijke