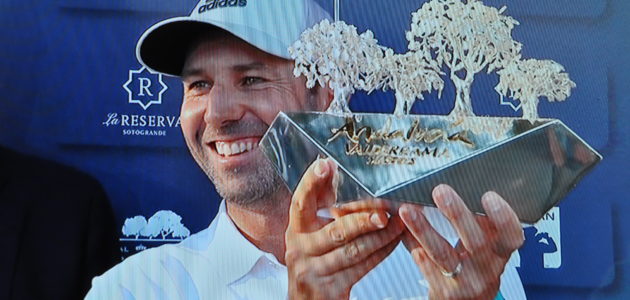 Dutchman takes on Sergio in Spain
Thrilling battle to the bitter end at Valderrama Masters
Just as Dutch golf fans were beginning to lose hope that they would see their man at the top of the leaderboard again this season, Joost Luiten played a dream tournament at Valderrama in Spain finishing in a head-to-head clash in the final group with tournament host Sergio Garcia and England's Daniel Brooks.
It was an exciting Sunday at the beautiful golf course of Real Club Valderrama with the Dutchman making a gallant attempt to hole his putt for birdie at the 18th to force a play-off with Garcia.  Instead, Luiten had to settle for second spot after carding another splendid 66.  A closing 67 saw the 37-year old Spaniard get to 12 under and win his own tournament, the 'Andalucia Valderrama Masters hosted by the Sergio Garcia Foundation', just one-stroke ahead of Luiten.
Newly-wed Spanish favourite
All credit to the player from Rotterdam for a terrific performance at the Real Club Valderrama.  He was always going to be up against it with the popular, just-married home favourite looking in good shape and in a rich vein of form.
After what can only be described as one of his most frustrating seasons in recent years with either two too many bogeys on his card, resulting in a missed cut or a weekend plummet down the leaderboard, Holland's only hope on the European Tour was in real need of a boost.
On the odd occasion when things had started to go his way – like his two hole-in-ones (Irish Open – July and PGA Championship – August), unluckily for Joost, there was not a gleaming new car up for grabs on those holes.  In Ireland, his ace wasn't even filmed!  No wonder Joost has been looking frustrated lately.
Spain was different, however.  A brilliant first day 66 (-5) which included six birdies and a bogey, thrust him to the top of the leaderboard as co-leader with Garcia.  But that was just the beginning.
Rare albatross for Luiten
Playing in a fuschia pink polo-shirt on Friday, Luiten made a rare albatross at the 11th hole. Yes, he holed his second shot at the 509-metre par 5 hole! The crowds were delighted. Alas, he did not see his wonder shot disappear into the cup on the uphill hole.  That's golf!  However, the albatross really gave his score a boost.  It was much needed, as it happened, because as well as two birdies he had also made four bogeys in round two.  A round which rather summed-up the Dutchman's season to date. Yet his 1-under par round of 70 was still good enough for him to take the tournament lead one shot ahead of Garcia, Robert Rock (England) and Scott Jamieson (Scotland) who were all gathered on 5-under.
On Sunday, Garcia had the edge on Luiten for much of the round.  But at the 206-metre par 3, 15th across the ravine, the Dutchman, dressed in his traditional Sunday Dutch orange, piled the pressure on when he hit a sublime 3-iron to within about two metres from the flag which he then holed for birdie to draw level with Garcia at 11-under.
Meanwhile the Spaniard had left himself with some work to do at the 15th, choosing to chip with a 3-wood from just off the green.  The result was a tricky one-metre putt to save par and stay at 11-under.  Mission accomplished – the battle was really hotting-up now!
Bananas for concentration
Luiten, a five-time winner on the European Tour, responded with a great tee-shot at the next and immediately scoffed-down another banana to sustain his energy and focus.  Or maybe to calm his nerves.  It was here at the 16th that he perhaps lost the tournament.  He was the last to putt and looked a little hurried which resulted in him bombing the putt a metre or more past the hole.  He then missed the return for a costly bogey – his first of the day.  Ouch!  Scores: Garcia -11; Luiten -10; and Brooks trailing at -7.
The magical matchplay-style tussle between Garcia and Luiten continued at the difficult 17th.  Joost's superb chip to within a metre looked to have clinched the hole.  Garcia had left himself with a slippery downhiller after chipping-up a tad short from through the green.  Yet with a silky stroke of his putter, he holed-out for birdie.  Luiten then followed suit.
Sergio's silky smooth putting-stroke seals victory
Even when the Spaniard's tee-shot rebounded off a tree down the left of the 18th onto the fairway, Luiten kept his focus and strolled blinkered down the last in a bid, so it appeared, to block out Garcia's friendly chit-chat.  Once on the green, Luiten unleashed an aggressive putt for his birdie from 10-12 metres which hit the hole and stayed above ground.  He had a tap-in for par leaving Garcia also with a par putt to seize the beautiful trophy, his 14th victory on the European Tour, by one stroke.
"You have to be patient at Valderrama …
Joost played an amazing match"
Sergio Garcia
Sergio's home victory is his third of the season.  Having got off to a brilliant start in January by winning the Omega Dubai Desert Classic, he followed-up with a stunning performance at Augusta in April to win his maiden Major Championship – the US Masters.  The last time that a European Tour event was won by the tournament host was in 2016 when Rory McIlroy won the Irish Open.  With this victory, Garcia has now climbed to number two in the Race to Dubai.
Felicidades Sergio!  Proost Joost!
Wendy Hoad
Nice to know …
Dedicated husband: Sergio Garcia dedicated his Spanish victory to his new wife, Angela and their baby which is due in March.
Handsome rewards:  The winners were handsomely rewarded at Valderrama: 1st Sergio Garcia 272 (-12) €333,330; 2nd Joost Luiten 273 (-11) €222,220; 3rd Daniel Brooks 277 (-7) €125,200.
CHECK OUT:  FINAL LEADERBOARD HERE
MAIN PHOTOGRAPH: Sergio Garcia with the Andalucia Valderrama Masters Trophy.  MINIS: Garcia and Luiten during their head-to-head battle.