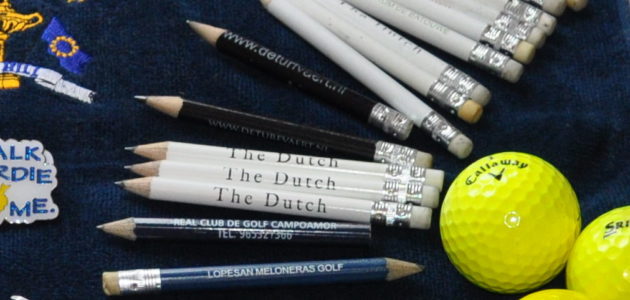 Time for a Spring clean!
And don't forget your golf bag!
Rain, rain, rain?  Don't complain – it's Spring!  Nature needs these April showers to keep our gardens blooming and our golf courses lush and green for the coming season.  So you don't fancy playing in the rain today?  Well, now is a good time to Spring clean your golf bag.  It'll be time well invested.  And it will give you chance to lighten your load before the serious golf begins.  So chuck out the old Mars bar wrappers, dried-up banana skins and rotten apples.  Sort out those old plastic water bottles and make a pledge to go environmentally friendly.  Warning: watch out for the manky hankies in the side pockets!
At 'Golfing Inspirations', we did an early Spring check on the golf bag of one of our trusted followers.   What did it reveal?  Well, among last season's debris we found a staggering 18 pencils, 56 golf tees (including four broken ones) and 20 golf balls!
Good news – the pencils, gathered from golf courses around the globe, were all reasonably sharp.  Not that any collector of golfing memorabilia would ever be interested in them in the future.  They're looking rather well-travelled after being jostled around in the ball pocket for the last few years.
Get to grips with your clubs too
Thinking of the mass of pencils, don't forget to give your set of 14 golf clubs the once over.  Give the club-heads a good clean and scrub the grips with soap and rinse well with warm water to rid them of last summer's sweaty palms and the residues of bacon sandwich grease from the halfway hut.  Better still, get your club pro to check them out for wear and tear.  New grips will do wonders for your golf game.
How are your cleats?
The Spring bag check is not only an ideal moment to check the condition of your grips but also the grip of your shoes.  Yes, indeed, the cleats on the sole of your golf shoes are there to give your feet a better grip on the ground both during the golf swing and whilst walking.  It is highly likely that they'll need replacing after a few busy seasons.  Whilst the real golf addict will probably only make it through one, so they say.
So how much did all the pencils, balls and debris found in our golfer's bag weigh?  Answer: 1294g (2.85 lbs).  The 20 golf balls alone weighed-in at 917g (2.02 lbs).  Yes, that's nearly a kilo of balls!
Mr & Mrs Average Golfer
Such a Spring clean will make light work of your golf the coming months.  Just think of all that unnecessary extra weight that you're carrying around.  Think about your poor old back, especially if you're not using a trolley.  A supply of six balls per round should be more than enough for the average golfer.  Remember that in golf it's often a case of: 'You lose some and you find some!'  However, beginners may feel more at ease with a few extra in the bag, say a total of 10 – just in case!  At the other end of the scale, low handicappers often enjoy several rounds with the same ball.  Yes, dream on Mr and Mrs Average Golfer …!
Enjoy a fresh start to your golf season by doing your own Spring bag check!  It's now or never, the month of May is looming …
Happy golfing!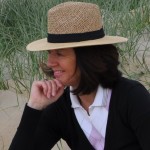 Wendy Hoad
Editor
Did you know? 
The Rules of Golf, which are jointly governed by the R&A and the USGA, state that a golf ball must not exceed 46 grams in weight.  Or, to be even more precise, 1.62 ounces.
There are also strict rules appertaining to the size of a golf ball too.  The ball must not have a diameter less than 1.68 inches (42.67 mm).
But do all balls weigh the same?  The harder balls (used for longer distance) and the softer balls (chosen for a good 'feel' on the greens).  We checked out a few popular brands.
The favourite among the Tour pros is the Titleist ball.  The ones we weighed came in at just over 45g. (1.60 ounces.)  An Ultra, one of the favourites with high handicappers, just tipped the scales at 45.5g.  
© PHOTOGRAPHY by Golfing Inspirations