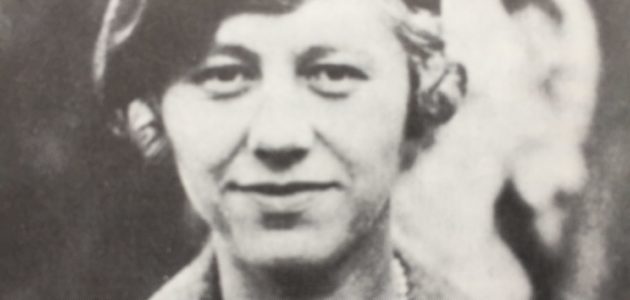 Early golfers and suffragettes
Fresh new era inspired by Wethered and Leitch
This month's celebratory marches in Britain to commemorate the 100th anniversary of the first women getting the vote, rather prickled my imagination.  Most of us are familiar with the name of Emmeline Pankhurst who led the Suffragette Movement and their most famous demonstration whereby they chained themselves to the railings of 10 Downing Street in the early 1900s.  The bold actions of this daring group of women were to change the face of Britain in the years that followed.  Indeed, many great women have left their mark on the world in all walks of life since 1918.  At 'Golfing Inspirations', we'd like to pay tribute to a few of the early lady golfers without whose sporting genius we probably wouldn't have the growing number of female golfers that we have today.  So who were the pioneering ladies who took to the links in their long flowing skirts in the early days?
High praise from Bobby Jones
I've long known the names of two such ladies: Joyce Wethered and Elizabeth Price.  They were the golf legends of my early childhood days.  Enid Wilson too, I can remember, but that was long after she had retired from competitive golf.  She continued her interest in the game as a golf writer for the 'Daily Telegraph' for many years.  In 1974, Elizabeth Price, British Champion in 1959, succeeded Wilson as women's golf correspondent.  So what did these ladies achieve in their golfing careers and who were the other, even earlier, notable lady golfers?
Joyce Wethered
Joyce Wethered (Lady Heathcoat-Amory) was born in New Malden, England in 1901.  She learned to play golf as a child along with her brother, Roger, who also became a formidable golfer.  Joyce was considered to be the supreme woman golfer of her age, perhaps of all time.  Bobby Jones said after he had played with her that he thought she was the best golfer – man or woman – he had ever seen.  High praise indeed from the great Bobby Jones.
Joyce was a member at Worplesdon GC in Surrey for most of her life.  Her domination of women's golf began in the 1920s.  She won the English Ladies Championship a remarkable five times (1920-1924).  As a 19-year old unknown golfer, she entered the English Ladies' at Sheringham GC, Norfolk for the first time, and to everyone's amazement, including her own, defeated the dominant figure in women's golf at that time, Cecil Leitch, in the final.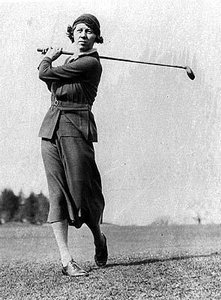 Joyce had the poise of a ballerina
Though most pictures of her striking the ball show her on her toes, Wethered (above) was perfectly balanced and "as poised as a ballerina", according to her admirers.  A wonderful entry in 'The Encyclopedia of Golf' describes the rhythm of her swing: "Effortless, full-pivoted yet giving the impression of economy of movement, but it was productive of a clubhead speed and a crispness of stroke that enabled her to outdistance her contemporaries by many yards". 
She was a prolific winner of the British Ladies Amateur Golf Championship.  This was the most important golf tournament before the dawn of the women's professional era in 1976.  Perhaps her finest victory came in the 1922 British Ladies Amateur Golf Championship at Royal St George's, when she beat her opponent in the final by the rather indecent margin of 9&7.  Her opposition that year was none other than the reigning champion, Cecil Leitch.  It was sweet revenge for young Joyce who had lost in the final to Leitch the year before.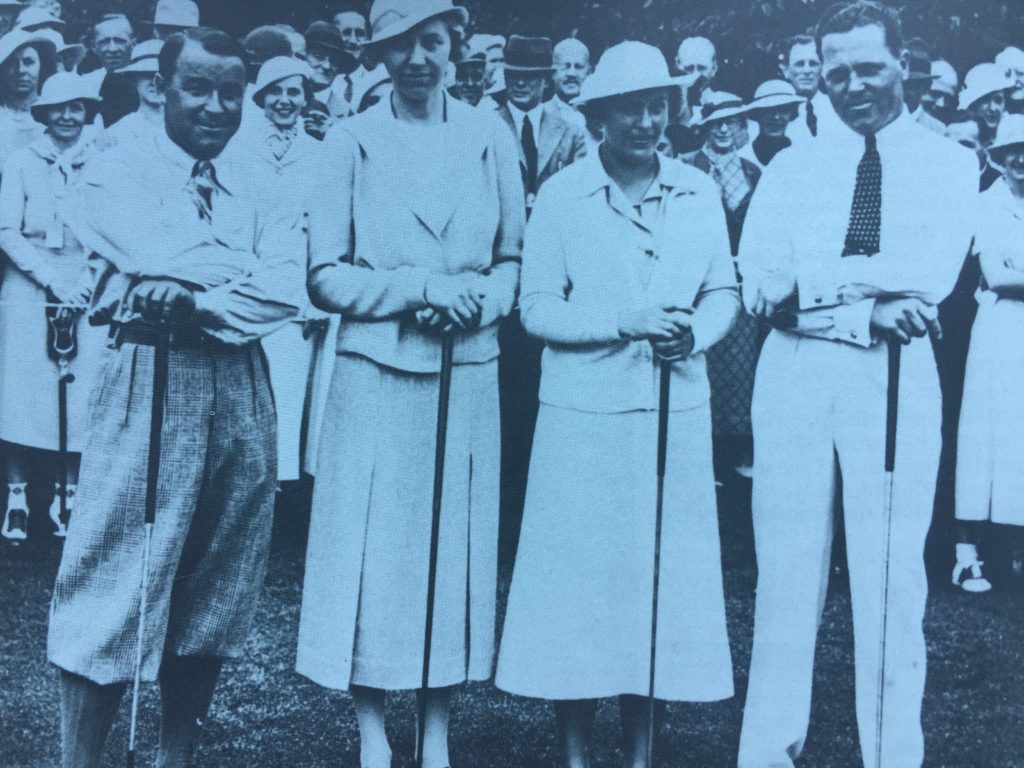 Apparently, Wethered also had a flawless temperament which was: "Strung up to the right degree – a touch of humour, the power of pegging-away and, above all, a legendary power of concentration, focused on swinging the club and playing each hole as it came".  She showed these fine qualities time and time again over a span of nine years whilst playing championship golf.  In 1937, she married Sir John Heathcoat-Amory and became Lady Heathcoat-Amory.
Cecil Leitch
Charlotte Cecilia Pitcairn Leitch was born in Silloth, Cumberland in 1891.  Fondly known as 'Cecil Leitch, she made her debut in the British Ladies' Championship on the Old Course at St Andrews in 1908.  It was the beginning of a fresh new era in women's golf.  In 1914, she won the British and English Championship titles before going on to scoop a mass of trophies in France and Canada, as well as in Britain.
Her first three British Championship titles (1914, 1920 and 1921) were, oddly enough, three consecutive victories.  A remarkable feat when you consider that the championship was not played between 1915 and 1918 due to the First World War.  And, in 1919, a rail strike prevented the championship being held.

Cecil hits the headlines
Such was the quality of the golf matches between Cecil Leitch and Joyce Wethered that they became front-page news.  As a result, these two young ladies inspired a whole new generation to take up the game, and just as importantly, inspired women to play better golf.
Cecil Leitch went on to see her name engraved on the British Championship trophy for a fourth time when, in 1926, she beat Marjorie Ross Garon by 8&7.  And that, rather fittingly, brings us back to young Joyce.  Cecil shares her record of four victories in the British Amateur with Joyce Wethered who was victorious in 1922, 1924, 1925 and 1929.
Today, nearly 90 years later, it's a record that still stands.  And, I suspect that with the growing tendency for promising young women golfers to turn professional these days, it may well never be beaten.
Enid Wilson
Enid Wilson was born in the village of Shirland, Derbyshire in 1910 and quickly followed in Joyce Wethered's footsteps.  As a 21 year old, she made an impressive debut in the British Ladies Amateur Golf Championship of 1931 when she triumphed over Wanda Morgan in the final at Portmarnock GC by 7&6.  Yes, that rather embarrassing score which old golfers used to fondly refer to as a "dog-licence" because seven shillings and sixpence was the cost of a dog-licence way back then.
Enid's famous hat-trick
It was to be the first of Wilson's three successive victories in the British.  In 1932, she had another 7&6 win over Scotland's Clem Purvis-Russell-Montgomery.  And that was lucky for the trophy engraver!  The following year Wilson was a little kinder to Diana Plumpton at Gleneagles, winning by just 5&4.
The inaugural British Ladies Amateur Championship at Royal Lytham St Annes in 1893, by the way, was won by Lady Margaret Scott.  She also reigned supreme in 1894 and 1895.  Shortly afterwards, when she married the Hon. Frederick Gustavus Hamilton-Russell in 1897, she retired from competitive golf.
Golfers and suffragettes
A few last thoughts over Emmeline Pankhurst and the suffragettes.  Firstly, I wonder whether the likes of Joyce Wethered and Cecil Leitch were involved with the movement in some way, or simply wore a discreet piece of the specially-designed purple, white and green jewellery to show their sympathy for the cause.
Was Emmeline Pankhurst a golfer?  I don't know.  Probably not.  However, if she had not devoted her life to politics and the needy cause of equality for women, perhaps she might have become a champion golfer.  It's an interesting thought.  Without doubt, she would have made an intimidating golf opponent, especially in matchplay!
Incidentally, Joyce Wethered and Elizabeth Price also played in the inaugural Curtis Cup which was held at Wentworth, Surrey in England in 1932.  It was to be the crowning glory of their careers.  But that's another story for another day.
Until then Ladies, enjoy the Centenary Celebrations in 2018!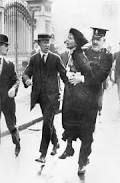 Wendy Hoad
Interesting to know …
Many of the early golf legends of the women's game lived to a ripe-old age:
Joyce Wethered – Born 17 November 1901.  Died 18 November 1997, aged 96
Enid Wilson – Born 15 March 1910.  Died 14 January 1996, aged 85.
Cecil Leitch – Born 13 April 1891.  Died 16 September 1977, aged 86.
Elizabeth Price – Born 17 January 1923.  Died 23 May 2008, aged 85.
Now that's really an inspiration to get out there and play more golf!
MAIN PHOTOGRAPH:  Joyce Wethered in her hayday.  Courtesy of 'The Encyclopedia of Golf' published in 1975 by Viking Press and edited by Donald Steel and Peter Ryde.  Joyce Wethered; Joyce Wethered playing in an exhibition match in 1935 with Gene Sarazen (l), Glenna Collet Vare and Johnny Dawson; Cecil Leitch; Enid Wilson; and a lady is arrested during a Suffragette demonstration in the early 1900's (Twitter).