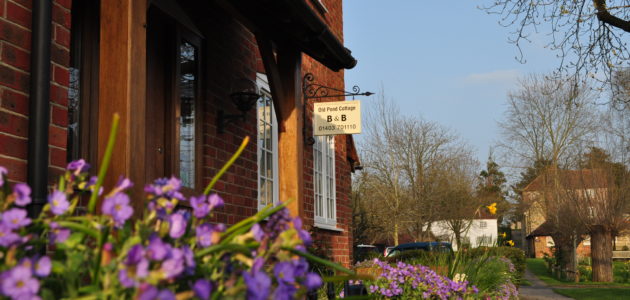 Hearty welcome at Old Pond Cottage
Surrounded by ancient country inns and great golf courses
It appears that the good ol' British traditional B&B is feeling the pinch.  And it's all due to competition coming from 'Glamping' and 'Air B&B'.  I've heard mixed reactions to these trendy new forms of accommodation.  But why take a risk with your holiday plans, I say?  Give me a trusted B&B in a character house in a unique location where the proud host has been welcoming guests for a decade or two any day.  My latest 'Golfing B&B' discovery is 'Old Pond Cottage' in Wisborough Green, West Sussex.
In fact, we nearly stayed there 18 months earlier when we were driving through pretty Sussex and  decided to tag an extra night onto our holiday before we headed back to Holland.  Alas, Old Pond Cottage was full that night, but the friendly and bubbly host, Sandie recommended a few other options nearby.  It was past 8 o'clock in the evening, so were grateful for the tip.  After an engaging chat about golf, we promised to return to her B&B on a future visit to Sussex.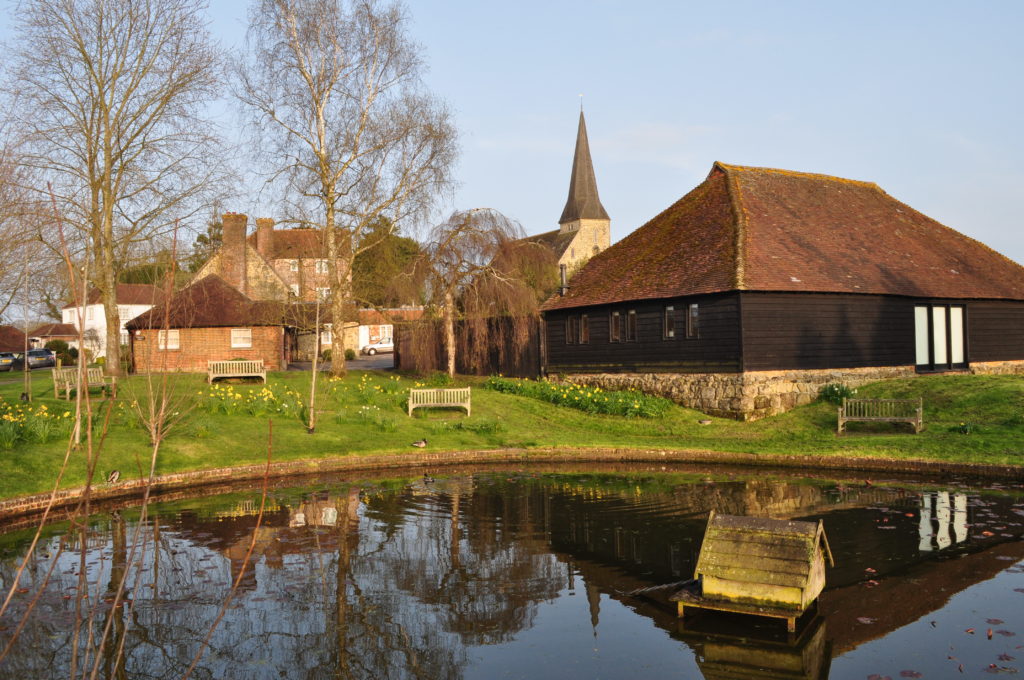 And so it was in the Spring that we meandered our way along the A272 to the charming village of Wisborough Green with its ancient country pubs, village church and handful of shops all dotted around the village green to stay with husband and wife team, Sandie and Brian in their lovely home next to the pond.  They've lived in the village for more than 30 years.
At first glance, it's easy to be a little wary of the nearby road, but with a bedroom at the rear of the house, you can be sure that it'll only be the sound of birds that wakes you from your early morning slumbers.
If you're travelling from abroad, then it's good to know that once you arrive at Old Pond Cottage B&B you'll not be needing your car again for a while.  Next door there is a delightful country inn, 'The Three Crowns', which has a tempting menu (in the bar or restaurant) and a great buzzing atmosphere.  On the other side of the village green is the 'locals' pub, 'The Cricketers Arms'.  And a little further afield, a saunter to the 'Bat and Ball' will give you chance to stretch those travel-weary legs.
Licenced to play golf!
It's heartening to see that the country pubs are thriving in this part of West Sussex when up and down the country so many are struggling and calling last orders for the final time.  Fascinating to hear from Sandie and Brian that they ran a pub for 25 years before starting their B&B.  In those days, Sandie was the cook in the kitchen and Brian was the landlord.  They've now switched roles, and they're loving it.  Sandie welcomes the guests at Old Pond Cottage and Brian is the breakfast chef.
They're keen golfers too.  Sandie's father had the honour of becoming the first member of the Old Thorns Golf & Country Club in Liphook.  He originally encouraged them to take up the game.  And then, in his late twenties, landlord Brian started a pub golfing society from The Railway Hotel in Liphook.   They were happy days, as Brian reflects: "For a year or so, a group of 16 guys used to get together and scrape around 36 holes with everyone carrying a hip-flask."
It wasn't until they moved to Sussex, built their house and later started doing B&B, that they really got hooked on golf.  Without the commitment of pub opening times, they had more spare time to enjoy.  Golf became their passion.  Then Sandra started getting problems with her knee and was forced to stop playing.  Brian remains fanatical, but admits with a smile: "As the B&B gets busier and busier, the golf isn't getting any better!"
Home sweet home
The not-so-old Old Pond Cottage oozes warmth and cosiness the moment you step inside.  And that's due in part to the tasteful mellow pine interior of the open staircase in the hallway, but also thanks to smiley Sandie, whose hearty welcome makes you feel instantly at home in her home.
After showing us to our delightful and spacious room, Sandie brought us a tray with a plump pot of tea and two slices of her delicious homemade fruitcake.  It was time to unwind on the sofa in our beautifully-decorated room amid purple Scottish tartan blankets and cushions adorned with pheasants.  This was to be a real country retreat for the next couple of days.
Old Pond Cottage has three double-bedrooms all of which are tastefully decorated with either an en-suite bath or shower-room.  You'll find enough lotions and potions for the ladies, and thoughtful extras like cotton wool buds, a hairdryer and even an electric fan for the sultry summer to come.  Alongside tea and coffee-making facilities, we were spoiled with Sandie's homemade shortbread biscuits.
Stroll around the village green before breakfast
Early evening we took a stroll around the village green before opting for dinner at The Three Crowns, literally next door to our B&B.  And what a great choice it turned out to be.  But more about that another time.
After a good night's sleep, we tucked into Brian's traditional full English breakfast.  It was very tasty, perfectly cooked, and generous in portion!   We chose the "full Monty" – eggs, bacon, sausage, tomatoes, mushrooms and fried slice all served with Sandie's homemade bread turned into hot-buttered toast, a choice of jams and locally produced Sussex honey.   Such a breakfast was sure to give our game of golf at West Sussex a big boost later that day!
Around 11.00, the sun broke through the early morning mist to reveal the most perfect of Spring days.  Absolutely ideal for our round of golf on one of the county's most splendid courses:  West Sussex.  Indeed, the challenging heathland course at nearby Pulborough, which is about a 15-minute drive away, is often rated among the top 50 best courses in the UK.  It's easy to see why.  West Sussex was divine to play, as always.  We'll tell you more about our golfing adventure in a future 'Course Review'.
Until then, enjoy your stay in a 'Golfing B&B'!  Our advice is to book-in for at least two or three nights so that you have time to marvel at some of the delightfully quaint  places of interest nearby as well as play golf.  Two nights in Wisborough Green was way too short!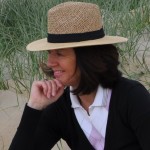 Wendy Hoad
Editor
Golf courses in the area include:
West Sussex GC – 13 kms (8 miles)
Slinfold Park – 10 kms (6 miles)
Cowdray Park GC – 18 kms (11 miles)
Golf at Goodwood – 30 kms (19 miles)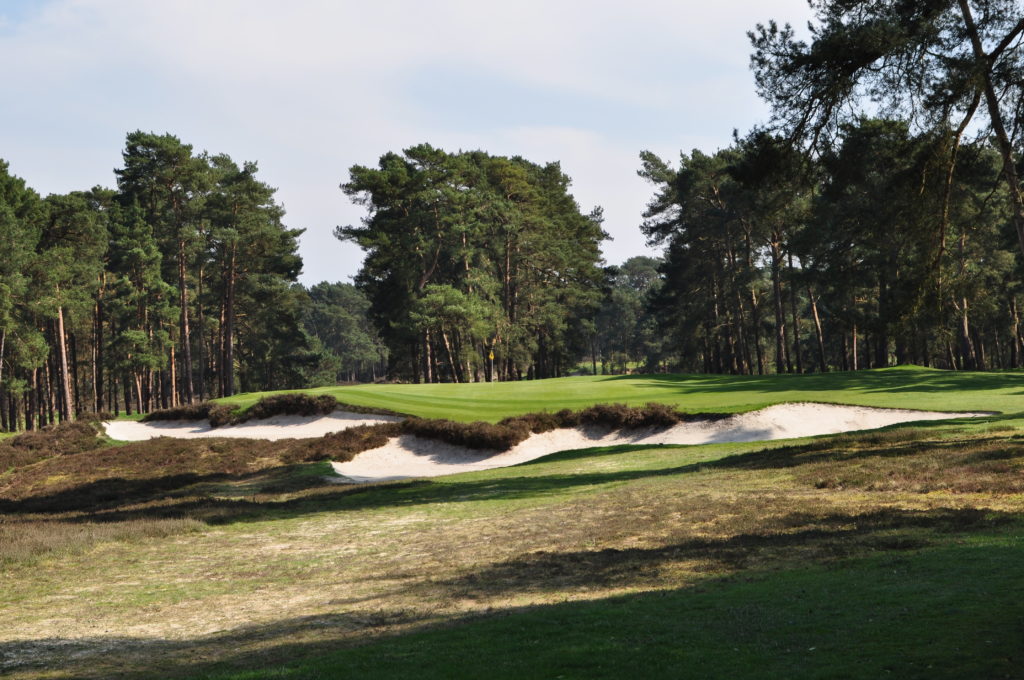 The challenging par 3, 5th hole at West Sussex GC.
Tempted?
For B&B prices and availability, check out their website: Old Pond Cottage (click here)  
Contact info: Old Pond Cottage, Billingshurst Road, Wisborough Green, West Sussex, RH14 0DX England
You'll find this lovely B&B accommodation conveniently situated next door to The Three Crowns Inn on the A272 in West Sussex between Petworth and Billingshurst. 
Nice to know … You'll be able to read more about Brian and Sandie's golf story in a future post.
© Photography by Golfing Inspirations