New Year and new rules to speed play
Time to ring in the biggest rule changes in decades
It's hard to imagine enjoying a round of golf in the sunshine in your snazzy shorts and polo shirt when it's so dreary outside.  Yet even though this winter might be trailing on as one long, dark and drizzly tunnel, there is light. OK, so you're not flying off to some super sunny golf destination, but why not make good use of this bad weather and resolve to become a rules guru in 2019?
"A rules guru?", I hear you faint in astonishment!  Yes, surely it's worth a thought.  Alongside a New Year's resolution to play more golf, a better understanding of the new and amended rules is pretty well guaranteed to bring you even more enjoyment out on the course.  Your new-found knowledge could also stimulate some lively discussions with other golf fanatics at the 19th hole.  Now that would make a welcome change from BREXIT!
I promise you that the new 2019 golf rules, painstakingly put together after years of consultation with those that matter in the world of golf, including every day golfers, will tickle your curiosity.  You may even begin to like golf rules!  So why not take a few minutes each day to read the changes on-line and watch the short and to the point video films.
At 'Golfing Inspirations', we rather like the website of 'England Golf', the governing body for amateur golf in England.  It sets out the new rules clearly and concisely (with videos of less than a minute) in its bid to "grow the game of golf".  England Golf is responsible for more than 1,900 golf clubs up and down the country with an estimated 651,000 golfers.
A few of the biggest rule changes in a nutshell …
Dropping the ball
You can drop the ball from knee-height now and the old rule which used to enable the ball to roll up to a further two club-lengths has been scrapped.
How funny it is now to think back to the antics of the good ol' days when the rule was to lean over backwards and drop the ball over your shoulder!
Water hazards have been scrapped too!
Or rather, the term 'water hazard' will no longer be used.  Instead they will be known as 'Penalty Areas' and may also include volcanic rock, desert and jungle.  The good news is that a player may now touch the ground with the hand or a club and may remove loose impediments such as stones or leaves.  A player may now ground the club behind the ball in a 'Penalty Area' and may also make a practice swing touching the ground.
Enjoy the sand – bucket and spade news!
Hooray, it is now allowed to touch the sand with your club or hand before taking a shot in a sand bunker!  However, this is only for removing things like leaves and stones.  You are still not allowed to test conditions.  And, by the way, the rule of "no practice swings touching the sand" still applies.
You can now drop a ball outside the bunker when declaring a ball unplayable which has landed in a sand bunker.  Simply follow the "back-on-the-line" procedure and add two penalty strokes.
Now this may sound harsh but it's better than notching up double figures when you're going through one of those phases of not being able to get out of a bunker!  However, just make sure you don't put it back in the bunker after taking your penalty drop …
Speeding up play on the putting green
The 2019 rules now make it possible to repair almost any damage on the green before you putt whether it be ball marks, shoe damage, indentations from a club or flagstick or animal damage.
The old rule which prohibited a player, partner or caddie from touching the line of play on the putting green has been scrapped.  Now that's really good news! In recent years, I've been driven mad by fellow golfers breaking this rule.
Great news for lazy golfers!
It's no longer a penalty if a ball played from the putting green hits a flagstick in the hole.
This new rule is already proving very popular with a lot of golfers.  However, for me this one could take some getting used to.  It'll feel like playing pitch and putt or crazy golf.  Personally, I prefer a whole hole when putting!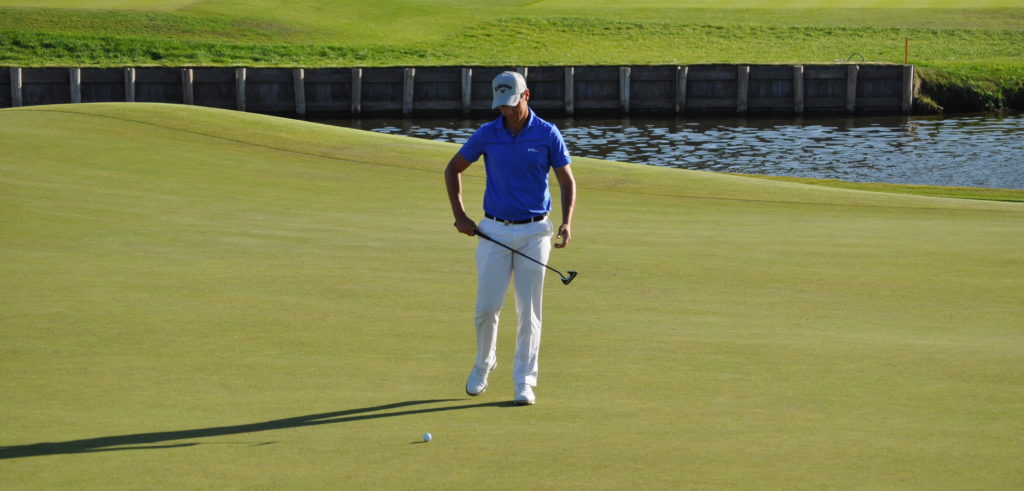 Ball moving on the putting green
It's now official – there is no penalty if you (or your partner) accidentally move the ball (or ball marker) on the putting green.  The wind problem on today's super slick and undulating greens has also been addressed.  Hooray, I hear the pros on Tour shout!
Basically, the 2019 rule says that "if a ball had been lifted and replaced on its original spot before it moved, the ball must always be replaced on its original spot once more, regardless of what caused it to move".  However, if your ball moves before you lift and replace it, the ball must be played from its new spot.
Sounds confusing, doesn't it?  For clarity, check-out the rule on-line and watch the video.  See link below. Our advice is to mark your ball as quickly as possible on fast greens, especially on a windy day before it blows into a bunker or worse still into the water.  If the ball rolls off the green after you have marked it and replaced it, you may replace it on the original spot without penalty.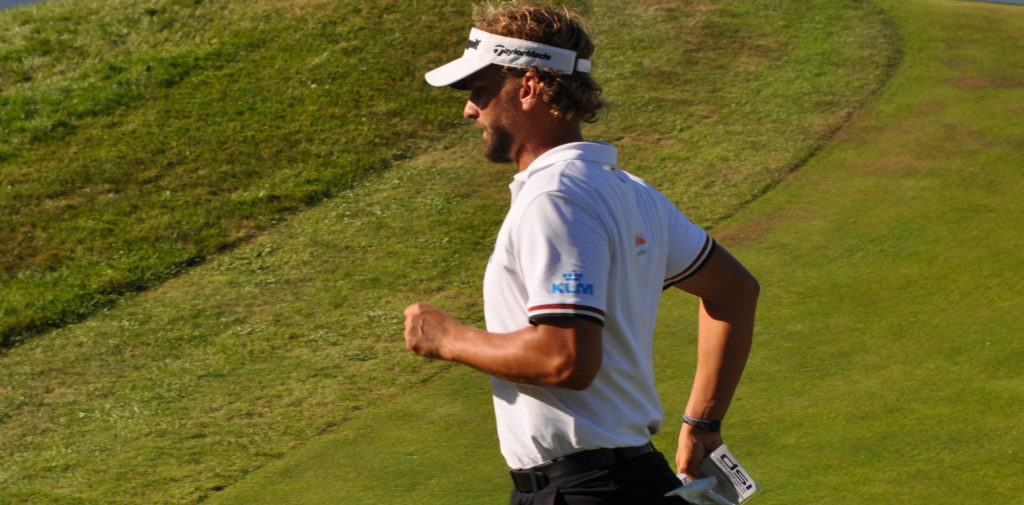 On the clock – 40 seconds per shot!
A wake-up call for many golfers.  The new rule states that "A player should make a stroke in no more than 40 seconds."  There is also a new rule which encourages 'playing out of turn' by agreement in match play.  And 'Ready Golf' is encouraged in stroke play.  The time allowed to search for a lost ball has been reduced from 5 minutes to 3 minutes.
Looks like it's synchronised watches at the ready, folks – a Rolex perhaps!
Role of your caddie
It's great news that this rule has been extended!  It takes me back to the legendary Nick Faldo and his Swedish caddie, Fanny Sunesson in the Nineties.  She and Sir Nick started a trend whereby she would constantly line-up behind him as he prepared his stroke.  A time-consuming habit which went on to be copied by other professionals on Tour and one which had also crept into the amateur game.
The 2019 rule says that "Once a player begins to prepare for a stroke up until the stroke is made, the player's caddie (or their partner or partner's caddie) must not deliberately stand on or close to an extension of the line of play behind the ball for any reason".
Maximum score
Now this will appeal to lovers of Stableford scoring, especially Dutch golfers who seem addicted to points!
'Maximum Score' is a new, additional form of Stroke play where a player's score for each hole is capped at a maximum set by the Committee.  For example, in order to comply with the 'CONGU UHS', a competition is eligible for handicapping when the maximum score per hole is set at 5 or more over par.
In other words, if you've already had 8 strokes on a par 3, you don't have to play on and hole out.  You can pick up your ball and write down 8 on your scorecard.  It is hoped to especially encourage beginners and less skilled golfers to play Maximum Score and so compete more in stroke play yet, at the same time, speed up pace of play. 
This is just a taste of some of the new rules for 2019. Naturally, there are a few 'ifs and buts' to take into consideration, however, I'm sure you'll pick these up as you go along in the course of playing!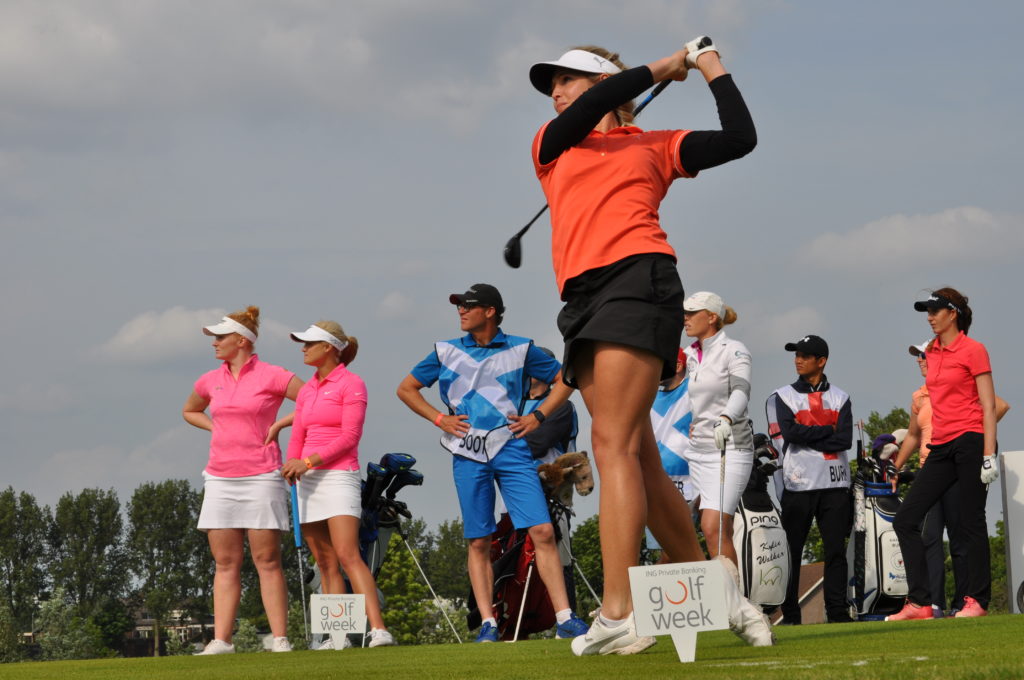 Fair play for more enjoyment
I sincerely hope the modernised rules will make it easier for those new to the game to learn them as well as encourage some of the rather lazy golfers out there to learn the rules and abide by them.  Too many 'own rules' have been creeping into the game over the last decade or two.
All that remains is for me to wish you all a glorious New Golf Year in 2019 and to remind you of the R&A's sporting advice: "Play the ball as it lies.  Play the course as you find it.  And if you can't do either, do what is fair.  But to do what is fair, you need to know the Rules of Golf."
Happy reading!
Wendy Hoad
Editor
Read, watch the videos and do the ENGLAND GOLF quiz HERE. 
MORE USEFUL LINKS:  
CONGU UHS – The Council of National Golf Unions (Unified Handicapping System) 
NICE TO KNOW … A shorter edition of the Rules, 'The Players Edition' has been published by the R&A in 30 languages and circulated to golfers worldwide.  
© Photography by Golfing Inspirations