Garcia wins centenary Dutch Open
A proud and emotional 16th Tour victory for Spaniard
It was an emotional day for the Garcia family on Sunday.  Thirty-nine year old Spaniard Sergio Garcia was victorious in his debut appearance in the KLM Open at The International, Amsterdam (12-15 September 2019) winning by one stroke on 18-under par.  Poignantly, it was in Holland a few decades earlier that his childhood idol and later friend, the late Seve Ballesteros, one of the greatest players of all time, won the 1976 Dutch Open.  It was the year that Seve made his debut in Holland.  Indeed, the Dutch Open was his first tournament as a professional.
Garcia has been ringing the changes in his life the last few years.  With his brother Victor on the bag now and his lovely wife, Angela and baby daughter, Azalea at his side in Amsterdam, Garcia fought off noble challenges from a trio of Englishmen and a young Dane to win the special centenary edition of the KLM Open.
Matt Wallace, James Morrison and Callum Shinkwin kept Garcia on his toes throughout the week at the new Dutch Open venue near Schiphol Airport forcing the Masters Champion of 2017 to show his true pedigree on Sunday.
Garcia closed out with a three-under par 69 after rounds of 68, 67 and 66 leaving Wallace, the best of the Brits, who finished with a superb 68, trailing by three.  Even so, 15-under par was good for third spot for Wallace.  So who took Garcia to the wire?
Rising Danish star
The honour of being runner-up to Sergio Garcia in the 100th KLM Open went to a rising Danish star by the name of Nicolai Højgaard.  Not that the 18-year old super talent really feels like celebrating right now.  He is probably still aching all over with disappointment.  He played like a dream all week.  And looked to be heading for victory in his rookie year just like Seve Ballesteros all those years ago.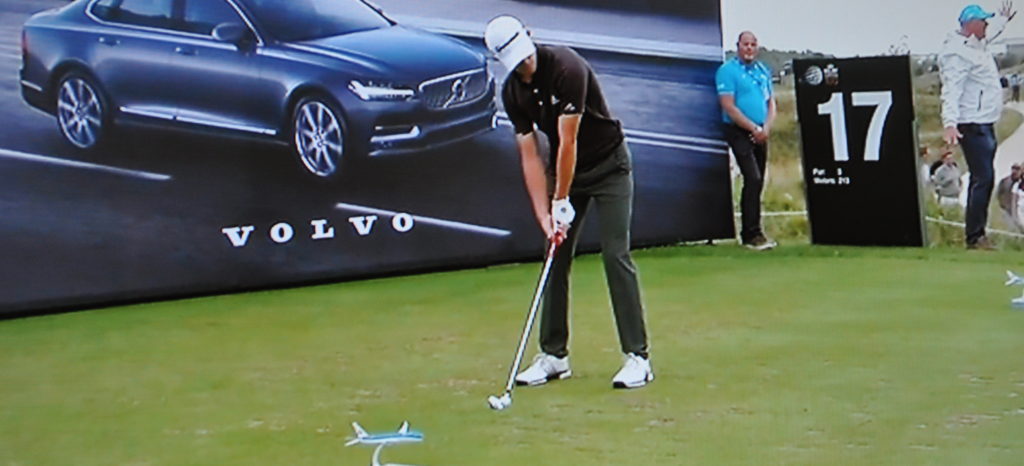 As the young Dane stood over his putt for eagle on the 18th green on Sunday, he was poised to create a real sensation in Amsterdam.  An eagle would get him to 18-under par and maybe even force a play-off should the Spaniard in the group behind make par or worse.  His putt shaved the hole leaving him with a tap-in for birdie.
Garcia played the par 5, 18th hole as a par five: on for three and two putts.  No heroics, just solid golf, leaving himself the luxury of a tiddler putt for victory, his 16th on the European Tour, and a cheque for 333,330 euros in prizemoney.
In press interviews, the newly-crowned 100th Dutch Open Champion was rather emotional when his victory was compared with that of Seve's in his Dutch debut.  Sergio must be feeling on top of the world right now and quite rightly so.
Double Dutch delight
While there was disappointment for local Dutch hero, Joost Luiten, there was also consolation.  The six-times winner on the European Tour was hoping to add a third KLM Open title to his collection.  Instead, following rounds of 69, 69, 70 and 70, the 33-year old from Rotterdam had to settle for a top-10 finish.  Alas, he had to share 10th place with Bradley Dredge (Wales), Mike Lorenzo-Vera (France), Matthew Southgate and his Belgian rival and winner of the 2015 KLM Open, Thomas Pieters.  They each received 34,800 euros for their efforts.
Bringing out the best in Besseling
The Dutch did have something to cheer about though.  In all, six home players made the cut which came at one-under par, including a 21-year old amateur, Koen Kouwenaar.
Challenge Tour player Wil Besseling had great tournament.  Somehow the 33-year old player from Zwaag in the Netherlands manages to bring out the best in himself during the KLM Open.  His rounds of 72, 66, 69 and 70 for a score of 11-under par secured him a share of 7th spot along with Hugo Leon (China) and Joakim Lagergren (Sweden).  So not only a top-10 finish and a cheque for 51,600 euros for the father of two, but Besseling can also boast being the best Dutch player in the 100th KLM Open.
Many congratulations to you, Sergio on your 16th European Tour victory.  You are the 100th KLM Open Champion – one for the history books!
Wendy Hoad
CHECK OUT the final scores on the European Tour leaderboard HERE
MAIN PHOTOGRAPH: Sergio Garcia taps in for victory in the 100th KLM Open in Amsterdam. BELOW: Runner-up Nicolai Højgaard from Denmark.