Mickelson seriously ripe Major winner
PGA Champion for second time, winner of umpteen titles
At the seriously ripe age of 50 years, 11 months and 7 days, America's Phil Mickelson has become the oldest Major Champion in the history of golf.  Mickelson from San Diego, California picked up his second PGA Champion title at the Ocean Course on Kiawah Island in South Carolina, USA on Sunday, 23 May 2021.  It was his sixth Major among a grand total of 45 PGA titles.  So what was his PGA Championship tally?  Mickelson shot rounds of 70, 69, 70 and 73 for an impressive score of 6-under par at Kiawah Island and received a whopping cheque for 2.16 million US dollars.
It was a week of sheer excellence for 'Lefty' – the left-handed wizard of golf.  He simply oozed the genre of a winner all week.  Quietly focussed with his new caddie and golf coach younger brother Tim on every single golf shot.  Quietly seeking the inner vision on every ball, wherever it may have finished.  Quietly searching for that little bit of extra help from the 'Great Guy' above.
Back nine brilliance
Even on the back nine on Sunday, Mickelson was playing superbly.  He was four shots ahead after the 10th hole of American Brooks Koepka, winner of the 2018 and 2019 PGA Championship.  Mickelson holed a birdie here to get to 8-under.  Koepka was on 4-under.
Then on the 11th hole the left-handed wonder pulled his tee-shot to the left into the crowds where lucky Phil received a free drop because someone had picked it up.  Result?  A bogey.  Koepka suffered a bogey here too.
In the flight ahead of them South Africa's Louis Oosthuizen climbed into second place on 5-under.  The skies were blue but it was a windy day with stormy seas.  Anything could happen down the last few holes.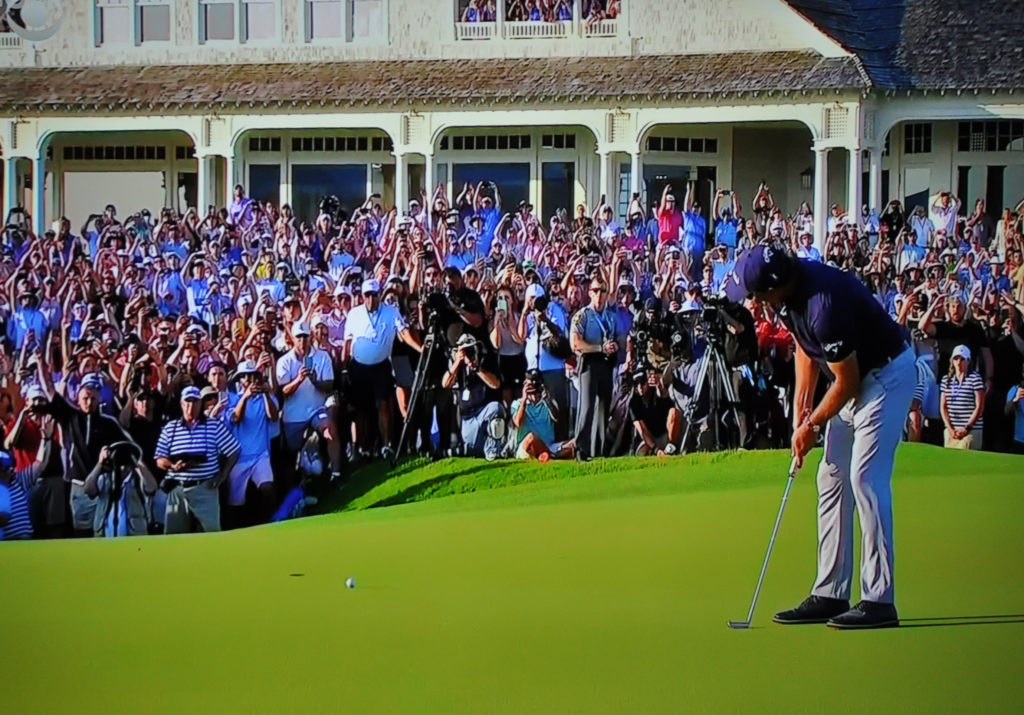 Mickelson, the 2005 winner of the PGA Championship, had an interesting hole at the 13th.  His approach went into the water near the green.  He bogeyed the 14th too to become leader by three shots on 6-under.  A par at the 15th saw Koepka make birdie to tie with the Australian in second place.  Meanwhile Oosthuizen one hole ahead then made birdie at the next to secure the outright runner-up position.
Mickelson and Koepka both birdied the 608 yard par-five 16th for an exciting finale last two holes.  Mickelson was now on 7-under and Koepka and Oosthuizen on 4-under.  Three ahead with two holes to go.  Mickelson's future as double winner of this Major was looking good but not yet one hundred percent secure.  Good concentration down 17 and 18 were essential.
The signature hole at Kiawah Island is the par 3, 17th over the water.  It left a whole lot for Mickelson's fans to envisage.  Why?  His ball finished in the rubbish left of the green.  Luckily with just the perfect amount of extra effort, he floated an incredible wedge right next to the pin with the water glistening like a not-so-welcoming pool behind the hole.  Flawless!  Koepka and Oosthuizen each made par.
Mickelson three ahead
Mickelson was three ahead now with just one hole to go.  Would he succeed in becoming the oldest Major Champion in golfing history?  Philip Alfred Mickelson was positive.  Brooks Koepka didn't think so.  Even when he birdied the opening hole and Mickelson made bogey, Koepka stole the lead for just one hole and then shared it after six holes.
The 50 year old pulled his tee-shot left into the vast array of accumulating fans down the last.  They were patiently moved aside to create some space for the leading American on the long 505 yard par four.  Koepka was also on the green for two and made par leaving Phil Mickelson with the honour of holing out for a score of 282, a winning score of 6-under par to become the PGA Champion for the second time in his long career.
The player born in California on 16 June 1970 had achieved the almost impossible.  Mr Philip Alfred Mickelson aged 50 years, 11 months and 7 days had created a new genre in golf.  As Major Champions seem to be getting younger every season, Phil has shone an even prouder light on the riper players.
Phil Mickelson is the 2021 PGA Champion and raised the enormous and heavy Wanamaker Trophy in a moment of utter and true satisfaction.  Well done, Phil!  We are truly proud of your outstanding achievement in what was due to be the start of your senior career – unbelievably good!
Wendy Hoad
© MAIN PHOTOGRAPH: A proud Phil Mickelson lifts the Wanamaker Trophy of the PGA Championship for the second time in his lengthy career.  MINIS: Phil Mickelson in the zone; Top ten finish for America's defending champion Collin Morikawa and joint runner-up in 2021 Louis Oosthuizen. BELOW: Lefty's putt for victory.