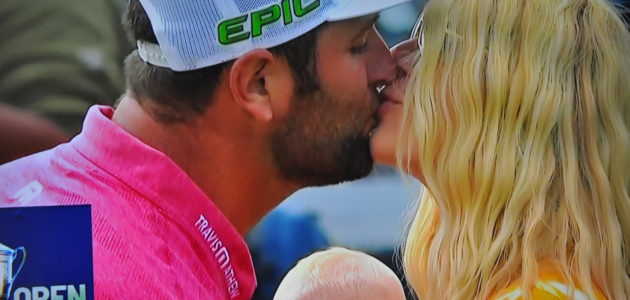 US Open 2021 gossip
The course, the players and a gaggle of snippets
The top of the 2021 US Open leaderboard at Torrey Pines, San Diego (17-20 June 2021) had been jostling all week amid the hang-gliders soaring over the coast.  American Russell Henley and South Africa's Louis Oosthuizen led the way on day one with an impressive 67.  Oosthuizen dropped two shots on Friday leaving a welcome spot for England's 48-year old Richard Bland.  The delighted player from Southampton was leader in the clubhouse and went on to share the lead after 36 holes with Henley on 5-under.
The South African was now in a tie for third with 21-year old American Matt Wolff.  Yes, the golfer with the unusual golf swing.  Spanish golfer Jon Rahm was in good form too.  He shared fifth spot with Bubba Watson (US) one shot further behind.  A trio of Americans followed in seventh position: Xander Schauffele, Kevin Streelman and Mackenzie Hughes at 2-under.  With just three shots between the leaders and those in seventh spot, the US Open was up for grabs.  Who would reach the top of the scoreboard on Sunday?
DeChambeau rises to the top on Saturday
On Saturday American Bryson DeChambeau climbed onto the first page of the leaderboard.  The 27-year old from Modesto, California was the defending US Open Champion.  He was on a roll with his new style of golf.  America would have to be patient to see if he could win the 121st edition.
Bland and Henley teed off together on day three.  Henley shot a birdie on the first to become outright leader.  On the second he suffered a bogey while Bland made steady par.  They both stayed at 5-under par.
After 36 holes, Jon Rahm teed-off with Major winner Bubba Watson in a share of fifth on 3-under par.  They were two behind the leaders Richard Bland (England) and Russell Henley.  But it was a South African, Louis Oosthuizen and a Canadian, Mackenzie Hughes who led the field with 5-under on Sunday.  Jon Rahm played with American Matt Wolff three shots off the pace.
There were others in the fight for the US Open title too.  Northern Ireland's Rory McIlroy holed a chip from off the green to get to 2-under after 12 holes.  American Brooks Koepka was keen to hole more putts as he was desperate to add another Major to his collection.  Alas for Richard Bland, he shot a 77 on day three so would be struggling on Sunday.
Desperately seeking the final day
Louis Oosthuizen was back at the top of the leaderboard at the start of the final day.  He now shared the lead with Canadian Mackenzie Hughes.  It was a real treat for them to play as the last pairing with a host of talent showing the way ahead.  After six holes, McIlroy had climbed to the lead – 4-under par with DeChambeau, Oosthuizen and Henley alongside him.  Sunday was to become a turbulent day for the world's greatest golfers.
Rahm was settled in fifth place at 3-under after 8 holes and still there after 13.  Mackenzie Hughes was having a few mishaps early on too and stood at 3-under after 5 holes.  Henley dropped a shot and ended up sharing the lead with McIlroy, DeChambeau and Oosthuizen.  Six other players combined on 3-under for a tie in fifth place.
DeChambeau then made a charge at the par three 8th hole.  He flew his pitching wedge some 175 yards to the pin where it hung agonisingly on the edge of the hole.  A tap-in for birdie followed: 5-under.  The defending champion was clearly on queue.  Oosthuizen then birdied the par-5 615 yard 9th hole to become co-leader with the American.
Mickelson's magic?
Phil Mickelson had been hovering in the limelight all week.  The 51-year old American, who was born in San Diego, scooped his fifth Major in the PGA Championship in May to become the oldest Major winner ever in the history of golf.  Alas, he just didn't seem to be on song at Torrey Pines and had to settle for a disappointing share of 62nd after finishing with a 76 and 75.  But what was happening at the other end of the scoreboard?  
Jon Rahm was playing a solid game of golf and kept his cool while others simply faded away.  Oosthuizen in the final flight was the last player standing in his way.  DeChambeau had already faded on the 17th where he shot an 8.  As a complete surprise Oosthuizen pulled his tee-shot to the left on the 17th.  Gone into the canyon!  Another disaster for the big boys.  He must have felt a twinge of nerves knowing that Jon Rahm had birdied the last two holes.  The dilemma cost him a valuable two strokes and gave Rahm the privilege of winning the tournament by one shot on 6-under par, 278.  The South African had to settle for second place again just as he did in the PGA Championship in May.
The US Open Champion, 26-year old Jon Rahm, took home 2.25 million US dollars and must be delighted at his Number One position in the Official World Golf Ranking.  But first there was Father's Day to celebrate with his new wife Kelley and their 3-month old son Kepa.
More news snippets:
Making and missing the cut:  A total of 71 players made the cut at Torrey Pines which came at +4.  Sadly missing by one shot there were 12 players including Belgium's Thomas Detry.
Disappointingly Richard Bland from Southampton, England slipped away in the third round.  He shot a 77 and then a 78 which included a missed short putt on the last hole.  A total of 292 (+8) earned him a share of 50th place along with Europeans Rafa Cabrera Bello, Tommy Fleetwood and three Americans.  A sad finish for Bland but what an experience for the Brit.
Best European?  Well that was Jon Rahm, of course.  Next in line were England's Paul Casey and Rory McIlroy (Northern Ireland) who shared seventh place with four other players.
Winning US Open 2021 scores:
2021 US Open Champion: Jon Rahm (Spain) – 278 (-6)  2. Louis Oosthuizen (South Africa) – 279; 3. Harris English (America) – 281; 4. Guido Migliozzi (Italy), Brooks Koepka (America); Collin Morikawa (America) – 282.
Wendy Hoad
MAIN PHOTOGRAPH: 2021 US Open Champion, Jon Rahm and his wife, Kelley and first born baby Kepa. MINIS: Matt Wolff, Rory McIlroy; Collin Morikawa; Bryson DeChambeau; and Louis Oosthuizen.  Phil Mickelson; Bubba Watson; and Brooks Koepka.