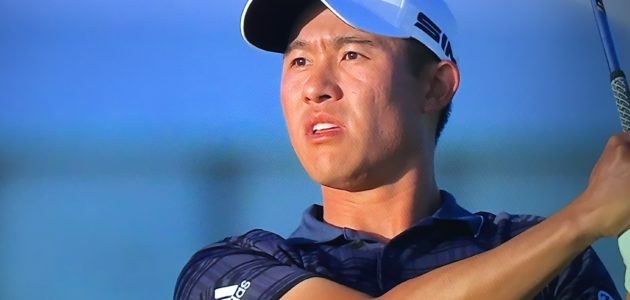 Morikawa takes on Oosthuizen
Thrilling finish to 149th Open Championship
America's Collin Morikawa is making an impressive debut in his first Open Championship at Royal St George's in Kent (15-18 July).  The 24-year old from Los Angeles was playing with the South African Louis Oosthuizen in the final flight on day three.  It was an unforgettable day for both: excellent golf with the occasional blip.  Indeed, it was an unforgettable day for the top ten as nearly every player made progress up the leaderboard only to fall back again on the closing holes.
It was another glorious day on Saturday at the par-70 seaside course near Sandwich in the south-east corner of England.  The whole week had been magical for the 149th Open Championship.
The impressive 2010 Open Champion at Royal St Andrews Louis Oosthuizen had hung on to his first round lead with a 36-hole scoring record in the Open at a wonderful 11-under par.  The 2020 PGA Champion Collin Morikawa was two shots behind on 8-under.  Three time Major winner Jordan Spieth (America) was one stroke behind him.  A whole gathering of players then followed on 7-under par: Dylan Frittelli (South Africa), two time Major winner Dustin Johnson and Scottie Scheffler both from America.
Swing tension for Oosthuizen?
The swing of Louis Oosthuizen did not look so relaxed on Saturday.  He was leading by two strokes but he hit his approach shots just to the right on a number of holes, but thankfully still made par.  Morikawa made a bogey on the second hole to slip back to 8-under.  The South African was hanging on in there keen to make more birdies.  On the front nine, he was solid with seven pars and two birdies to record an aggregate score of 13-under.
Jordan Spieth was making an impressive charge at the championship title.  He was playing one hole ahead and as Oosthuizen made a bogey he made a birdie to challenge the South African.  The score: Oosthuizen 12-under and Spieth 11-under.
A few holes later Spieth got himself into a three-way lead with Oosthuizen and a resurgent Morikawa all on 11-under.  Spieth's inspiring play then saw him drop a shot.  Oosthuizen birdied the 16th to become the outright leader again on 12-under.  Alas, Jordan Spieth actually bogeyed the last two holes to slip back to third.  A short missed putt on the 18th was a sad way to finish his round.
Louis Oosthuizen found his groove on the back nine and went to bed after a long day as the Open Championship leader on 12-under par.  Collin Morikawa delighted us all by nudging one step closer to the South African on 11-under.
The restricted crowds of 32,000 were full of joy that there was a tournament at Sandwich this year.  The gorgeous weather, the beautiful course and the enthusiasm of the players and the press were a special gift from someone high above us.  BBC golf commentator Peter Alliss, perhaps?  He must be very pleased to be watching the Open from high above on his puffy cloud.  May the best golfer win today!
Wendy Hoad
So how is the top of the leaderboard looking at the moment? 
Leader: Louis Oosthuizen (South Africa) 12-under;  2. Collin Morikawa (America) 11-under;  3.  Jordan Spieth (America) 9-under; Tie 4. Corey Conners (Canada) and Scottie Scheffler (America) 8-under; Tie 6.  Jon Rahm (Spain), Mackenzie Hughes (Canada) and Dylan Frittelli (South Africa)  7-under;  Tie 9.  Cameron Smith (Australia) and Justin Harding (South Africa) 6-under.
MAIN PHOTOGRAPH:  America's Collin Morikawa is inspired by the 2010 Open Champion Louis Oosthuizen in the Open at Royal St George's in Kent.