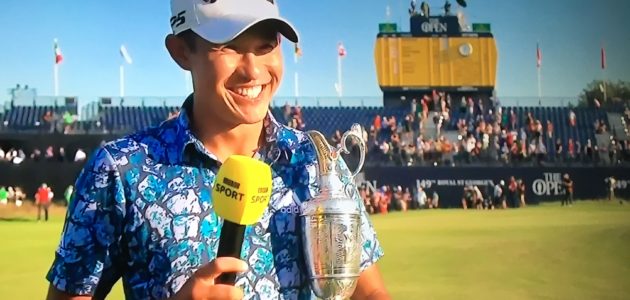 Morikawa clinches The Open
Glorious Major amid the sand dunes in Sandwich, Kent
Young American Collin Morikawa played superbly on Sunday when he clinched his second Major title  beating South Africa's Louis Oosthuizen who had led the Open Championship (15-18 July 2021) at Royal St George's in Kent from day one.  Morikawa created a magical 66 on Sunday with four birdies and 14 pars to win with a score of 265, 15-under par.
Twenty-four year old Morikawa played with Oosthuizen for the second time on the final day.  It was another day of splendour amid the sand dunes in Sandwich under blue, blue skies with a gentle sea breeze.  The first few holes were steady Eddie with Oosthuizen maintaining his one stroke lead over  Morikawa at 12-under par.  The 38-year old South African looked as cool and calm as ever.  The young American was playing quietly and patiently, awaiting the right moment to snatch the Claret Jug from his grasp.  Oosthuizen's victory at Royal St Andrews in 2010 was a much-cherished memory for him and one which he would not easily let slip through his fingers.
Sunday at the Open got off to a spooky start.  Corey Connors from Canada has a sweet swing but began with back-to-back bogeys.  On the 7th hole, he enjoyed an eagle with playing partner Jordan Spieth to make up some of the difference.  In my humble opinion, Jordan Spieth was the player to beat at Royal St George's.  OK, he did miss a short putt on the 18th the day before.  Indeed, a back-to-back bogey finish is not a pleasant thought, especially in the last Major of the season.  But I had a strong hunch that the 27-year old Texan would produce something magical down in Kent.  And so it was that he engaged in some extra practice with his coach out on the putting green after his third round.  Surely he could plug the three-shot gap between him and Oosthuizen?
Morikawa's birdie packs a punch
On the 4th hole, Spieth made a bogey to seemingly rather dash his hopes.  But it was still early in the round.  It was a hole where Oosthuizen and Morikawa drew level on 11-under.  Three holes later Oosthuizen suffered another bogey at the par-5 7th to go back to 10-under.  Normally that would not be such an issue but when your playing partner holes a great putt for birdie then the two-shot swing packs a painful punch.  Morikawa was now the outright leader on 12-under.  He then birdied the next two holes to get four ahead of the South African.
This year's US Open Champion from Spain, Jon Rahm worked his way steadily up the leaderboard where he finished in a highly commendable share of third spot on 11-under par. Alas, this is where the Open Champion of 2010 Louis Oosthuizen also finished.  Rahm had woven four neat birdies into the back nine.
However, all ended well for the German Matthias Smid.  The 23-year old amateur was one of two that qualified for the weekend.  His score of 5-under 65 on Friday earned him a tie for best amateur in Sandwich.   A four-round tally of 2-over gave Smid the R&A's best amateur award, the Silver Medal, for his shared 59th spot.
Enemy number one
So who was Morikawa's biggest enemy?  Jordan Spieth is the answer.  He was playing exceptionally well.  Could his fellow American hold on to the lead or would Spieth linch him at the last hole?  The relaxed Oosthuizen nearly holed his tee-shot at the short 11th.  A tap-in birdie saw him at 11-under.  Morikawa was now three ahead.  But for Oosthuizen a third bogey at the 13th followed by a second birdie at the 14th all added up to a 1-over par 71, four shots too many to challenge Morikawa.
Scotland's Robert Macintyre shot a 7-under par 65, the best round of the day on Sunday, which excelled him into a share of 8th place with Americans Dustin Johnson, Daniel Berger and Scottie Scheffler.
The 13th and 14th were inspiring holes for Spieth where he made back-to-back birdies.  This was to be the moment where Morikawa might see a slip in standard.  Spieth was just one off the lead now.  Exciting!  Yet no sooner had that sunk in than the leader had made another birdie to get two ahead of Spieth.
A nail-biting affair
Spain's Rahm was settled into the comforts of the clubhouse as leader on 11-under par.  What would happen to the last few players still out on the course?
Just like all Major Championships the last few holes were a nail-biting affair.  South Africa's Dylan Frittelli holed beautiful putts at the 15th and 17th holes to finish in 5th place on 9-under.  The leader Morikawa and his challenger Spieth played down the closing holes four straight pars with really good chances of birdies.  And so it was that Collin Morikawa delighted the crowds in Kent with his first British victory.
American Collin Morikawa won the 2021 Open Championship at Royal St George's with rounds of 67-64-68-66 for a total of 265, 15-under par leaving countryman Jordan Spieth trailing by two shots.  Morikawa is now the Champion Golfer of the Year.  His parents, Blaine and Debbie, and girlfriend Katherine Zhu, are delighted with Collin's victory.  The Claret Jug and the biggest individual payout yet in the tournament, the handsome sum of $2,070,000.
Many, many congratulations to you Collin Morikawa – two Majors in twelve months!  2021 Open Champion and winner of the PGA Championship in America in 2020.  What a tremendous victory – we salute you!
Wendy Hoad
MAIN PHOTOGRAPH:  Collin Morikawa celebrates winning the 2021 Open Championship at Royal St George's in Kent with the BBC commentary team.  MINIS: Louis Oosthuizen, Jordan Spieth, Jon Rahm and Collin Morikawa.