Horschel triumphs in BMW
Thrilling final with Ryder Cup places at stake
An American was treading very carefully in the footsteps of the leaders during the final day of the BMW PGA Championship at Wentworth in England.  Billy Horschel is his name.  He was tucked-in well behind a really on-form Kiradech Aphibarnrat.  The player from Thailand was holing putts on Sunday like there was no tomorrow, until a ball in the hedge at the 17th cost him a shot.  He finished on 18-under par which left those in second spot a chance for a play-off or simple victory.  Horschel decided to keep it simple and creamed a delightful shot close to the pin at the final hole giving himself a tap-in for birdie.  A round of 65 for a victorious tournament tally of 19-under par.  What a day for the 34-year old born in Florida!
Billy Horschel had got himself in the running on day three where he finished in a 4-way share of third spot with Christiaan Bezuidenhout (South Africa), Jamie Donaldson (Wales) and Adam Scott (Australia).  At 12-under par they were just two shots off the Laporta lead with Laurie Canter (England) nestled in one behind in second place.
Italian takes the lead
It was an Italian by the name of Francesco Laporta that opened with a birdie at the first on day three to take a share of the lead with Aphibarnrat on 12-under par.  Within a few holes Laporta had become the sole leader two ahead of the field after holing a super putt for eagle at the par 5 4th.  Alas, Aphibarnrat was sliding slowly back down the leaderboard.  The 30-year old Italian was 13-under after six holes and then dropped a shot to share the lead with home player from Somerset, Laurie Canter on 12-under.
Day three was a thrilling day for Laporta who went to bed with that dream feeling of being leader of the 2021 BMW PGA Championship on 14-under par.  Canter trailed him by one tiny shot.  Wentworth was set for a blistering round of golf on Sunday.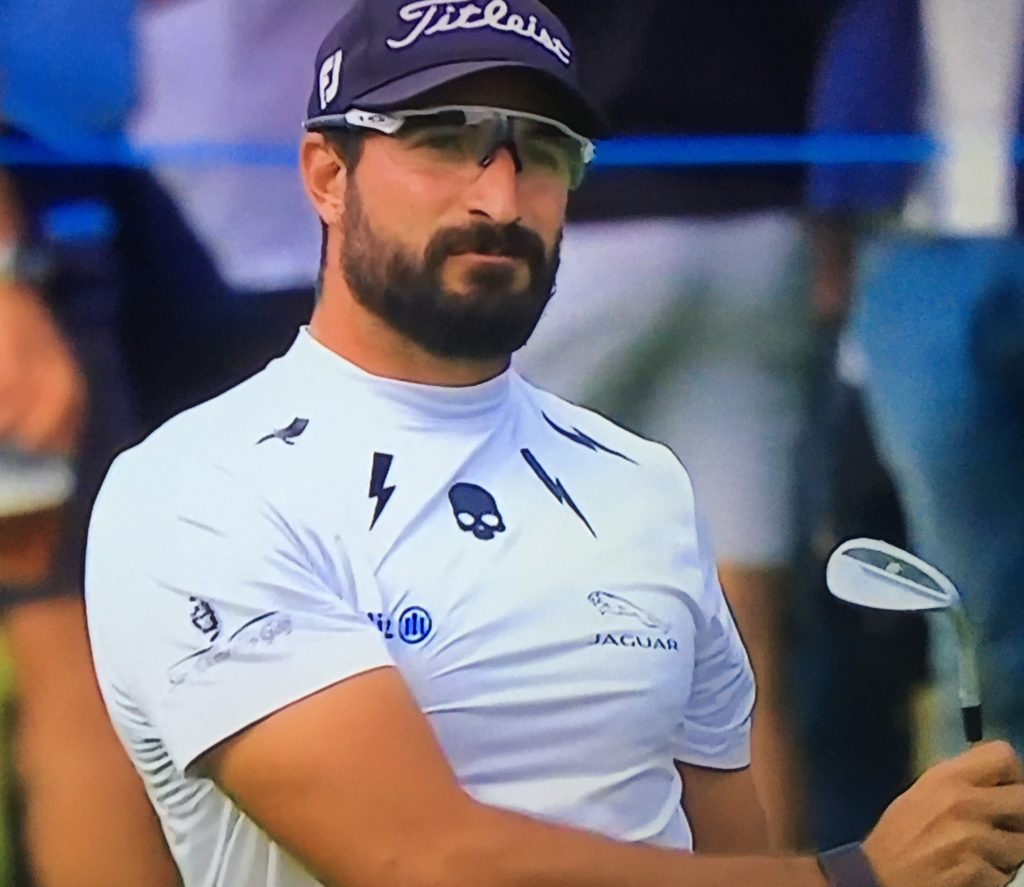 Aphibarnrat's round had taken a bash on Saturday, but the final day saw him really with his eye on the ball on the greens.  Every putt seemed to just find the bottom of the hole.  He holed five birdies in the first seven holes to become the BMW leader at 15-under par.  Laporta dropped a shot at the 6th hole.
Horschel appears as co-leader
And then, from nowhere, the American Billy Horschel appeared as co-leader with Aphibarnrat on 15-under.  Horschel had had an impressive week.  On the front nine he had suffered five bogeys but starred brilliantly on the back nine with 17 birdies, three of which were on the 18th.
The player from Thailand was in awesome form.  On the 17th, he was 19-under par.  But, alas, a some what nervous-looking swing saw his ball head left over the crowds almost into someone's garden.  A bogey followed leaving the field wide open for a host of players to catch Aphibarnrat or for there to be a play-off.
Jamie Donaldson had a tremendous finish with two birdies on 17 and 18 to get to 18-under.  Laurie Canter made his 7th par in a row down the last to share second place with Donaldson and Aphibarnrat.
And so it is that an American has won the prestigious European Tour event for the first time since Arnold Palmer in 1975.  Billy Horschel is the 2021 BMW PGA Champion with four super rounds of golf: 70, 65, 69 and 65 for a Wentworth West Course tally of 19-under par.
Congratulations Billy Horschel!  You are the BMW PGA Champion!
Wendy Hoad
MAIN PHOTOGRAPH:  American Billy Horschel is the BMW PGA Champion for 2021.  MINIS: Billy Horschel, Kiradech Aphibarnrat, Christiaan Bezuidenhout, and Laurie Canter.  BELOW: Francesco Laporta.