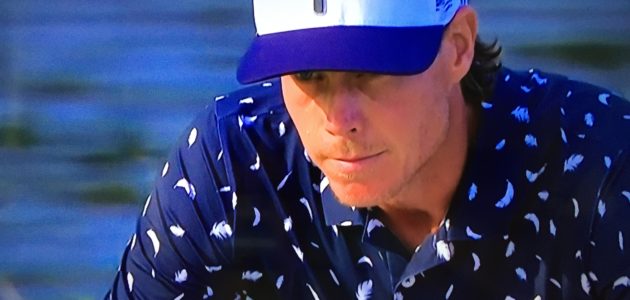 Star performance by Broberg
Swedish golfer shares 54-hole record in golf
Yesterday the 35-year old Swedish golfer Kristoffer Broberg equalled the 54-hole lowest recorded score on the European Tour with a 23-under par in the Dutch Open 2021 played at the new Bernardus Golf, Cromvoirt in Holland.  He joins the great names in golf such as the professionals Ernie Els (2003 Johnnie Walker Classic) and David Howell in the 2006 TCL Classic.
As the number 772 on the Official World Golf Ranking, there were few expectations that the golfer from Stockholm would fare so exceptionally well in Holland.  Indeed, his playing rights on the Tour looked pretty serious for next year.  Yet somehow he just kept rolling in the putts for birdies.
Kristoffer Broberg shot ten birdies and one eagle, and not a single bogey, in his third round at Bernardus Golf for a magnificent 11-under par.  When you add that to his 4-under for day one and 8-under for day two, then 23-under par after 54 holes is simple mathematics. Broberg must be delighted with his 23 birdies, one eagle and two bogeys this week.  Let's hope he can keep this outstanding quality going in the final round.
The chasing pack
So who is biting on Broberg's heels?  Well, no-one, actually.  Not even Holland's number one player Joost Luiten.  The 35-year old player from Bleiswijk actually won the Dutch Open twice a few years ago.  In 2013 and 2016 he injected a mass of enthusiasm into golf in the Netherlands with his very special victories.  This year he just could not get his game on track and alas missed the 2-under par cut by two strokes.
A player from Denmark, Marcus Helligkilde is number two in the field.  He has a good score but is way short of Broberg's illustrious presentation.  Helligkilde leads the chasing pack 8 strokes behind on 15-under par.
Behind him is a share of third spot between Richard Mansell, Alejandro Canizares and Matthias Schmid on 14-under par.  Belgium's Thomas Detry is 5th on 13-under par followed by the best-placed Dutchman 32-year old Darius van Driel from Leidschendam in 7th place on 12-under.
The weather looks absolutely stunning again today in Holland.  Blue skies with chilly temperatures in the morning, but by lunchtime the 7,425 yard course will be sumptuously ripe for a buzz of birdies.  Kristoffer Broberg, Marcus Helligkilde and Matthias Schmid will be teeing-off as the final match at 12.25 local time.  The day looks to be one of sheer excitement.  Can Broberg continue in the same fine form as the last few days?  Let's hope so!
Wendy Hoad
MAIN PHOTOGRAPH:  Kristoffer Broberg from Sweden chasing in the birdies in round three for a share of the best 54-hole score in golf on the European Tour.