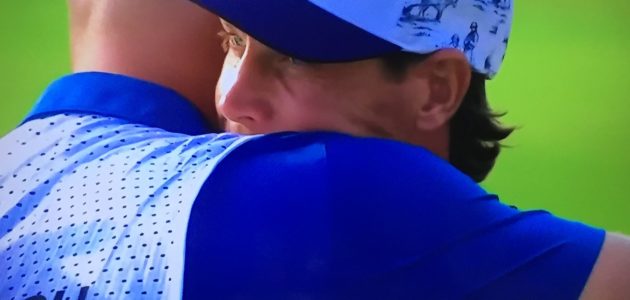 Broberg wins the Dutch Open
Three-shot victory for Swedish golfer
I'm not sure how well Swedish golfer Kristoffer Broberg slept on Saturday evening.  But he must have been extremely happy with his 8-shot lead in the Dutch Open 2021 at Bernardus Golf, Cromvoirt, Holland after 54 holes.  With a tremendous score of 23-under par, the 35-year old teed-off on the final day of the 101st Dutch Open full of fun, fear and trepidation.
Some of the not-so-positive golf followers predicted a complete Sunday slump.  The more positive among us were keeping their cool.  This could be a very exciting final day.  The leader is 8 shots ahead, so anything can happen.
Broberg opened with a birdie at the par 4 first hole, which he followed by a par and then a bogey.  Indeed, that was his style on Sunday.  Everything was just not quite right.  He was struggling.  Truly, he was really not on song.  The back nine looked more promising when he birdied the 10th.  But he then made a par at the 11th and then bogeyed the 12th.  The 14th saw another bogey on his card.  But, despite all that was happening, he kept his cool and his patience.  He was delighted to make a birdie at the par 3 17th to get himself back to 23-under.  There was just one more hole to go.
Following in Broberg's footsteps
Alejandro Canizares (Spain) and Germany's Matthias Schmid were Broberg's biggest threat.  They were really challenging the leader when they both got to 20-under par.  In fact, 23-year old Schmid stayed in the mix up until the final hole having launched his final round with eight birdies.  Alas a double-bogey at the par-3 13th proved costly for him.  He finished on 20-under par to seize second spot on his own.
Canizares took an alternative route down the final par 5 hole by flying the ball well left over the first and ninth holes.  A short-cut with a few hiccups along the way.  The Spaniard's drive cost him a double-bogey seven which deflated his ego as he slumped to third spot on 18-under.
So what happened to the runner-up from Denmark on the final day?  Well, Marcus Helligkilde slipped slowly away from 15-under.  He finished on 12-under par and earned himself a share of 12th spot with South Africa's Branden Grace and Ireland's Niall Kearney.  Each received a cheque for just over €14,948.
Dutchman Joost Luiten alas missed the weekend cut.  So who was the best player from Holland?  Well, that honour went to Darius van Driel.  The 32-year old had an impressive tournament where he finished as leading Dutchman in a tie for 4th spot with Belgium's Thomas Detry.  The best Englishman was Richard Mansell in a share of 6th place.  The 26-year old was 14-under par after 54 holes but struggled on Sunday and finished on level par for the day, 14-under for the tournament.  He shared 6th spot with Ricardo Santos (Portugal) and Johannes Veerman (USA).
Victory on the final hole
On the final hole, Kristoffer Broberg had made just one birdie on the par 5 the whole week.  This was his moment to shine.  And he did.  He made a solid par to maintain his 23-under par score and win the Dutch Open Trophy by three shots.  It was his second success on the European Tour which during a greenside interview was overwhelming for the player from Sweden.  His tears began to flow.  Tears of joy and frustration as to what he has had to endure in terms of health problems and injury since his maiden victory six years ago.  It was an emotional moment.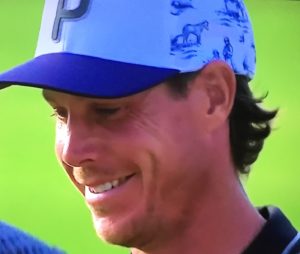 "It has been six years of hell!"
Kristoffer Broberg
But there was also more good news for Kristoffer Broberg.  Not only did he win the coveted Dutch Open Trophy, he also collected an enviable cheque for €147,370.  And what is more, he has shot up the Official World Golf Ranking to 237th and in the Race to Dubai he is now 81st.  Well done, Kristoffer!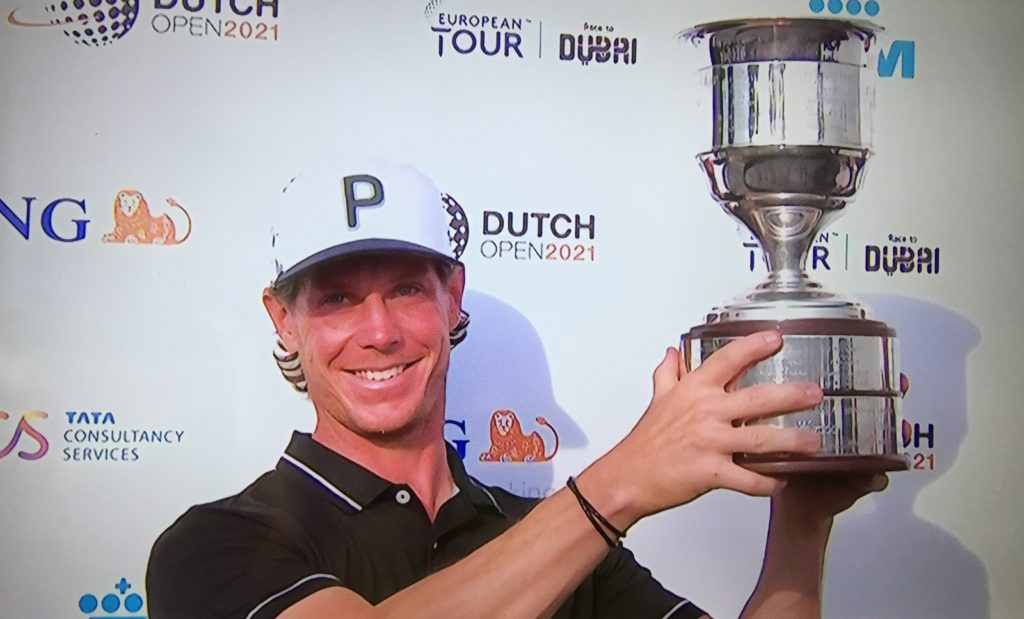 Many, many congratulations Kristoffer Broberg.  Fantastic golf!  You are a deserved winner of the Dutch Open!
Wendy Hoad
CHECK OUT the final scores of the Dutch Open 2021 HERE.
MAIN PHOTOGRAPH: Sweden's Kristoffer Broberg gets a proud hug from his caddie.  MINIS (l-r): Alejandro Canizares (Spain); Sam Horsfield (England); Darius van Driel (Holland) and Marcus Helligkilde (Denmark).  BELOW: Kristoffer Broberg.