Rabbit golfer Preston steals the show
While TV cameras create havoc at Northwood Golf Club
There was once a charming and rather eccentric gentleman golfer who shot to fame in a documentary film about a 'rather stuffy golf club' in Middlesex in the early Nineties.  Preston Lockwood was the 'rabbit' golfer's name.  The 81-year old was an actor and writer by profession who had enjoyed modest success in his lengthy career until Channel 4's 'Cutting Edge' documentary plunged him into the limelight in 1994.
Lockwood just happened to be a member at Northwood Golf Club where, rather naïvely, the Captain and his committee had allowed the television cameras access to the clubhouse.  The producers were keen to portray 'everyday activities' at a typical members' golf club in England.  Little did Northwood GC realise the impact the programme would have on the nation and the havoc it would cause amongst its members.
Pin-up in plus-fours
The delightful Mr Lockwood emerged as a "pin-up in plus-fours" in the controversial programme, according to Victoria Mather of the Daily Telegraph at the time.  She wrote: "Alone among the bank managers, accountants, lawyers and suburban policemen dedicated to denying women members the vote, Preston Lockwood shone as an old sweetie opposed to such discrimination.  Furthermore, he thinks women should be allowed on the course on a Sunday morning – when, in the view of all the other chaps, they should be at home basting the joint!"
Ouch!  Yes, it was clear in hindsight for the all-too-welcoming members, that the programme was called 'Cutting Edge' for a very good reason. Needless to say, the club was portrayed in a very poor light.  It resulted in the entire committee resigning shortly after the damaging documentary was broadcast.
Wicked sense of humour
By all accounts, Preston Lockwood just played himself.  With age on his side, accompanied by a wicked sense of humour, he just sat back and watched the over-zealous committee types shoot themselves in their golf shoes.  I bet the television producers couldn't believe their luck.
Thankfully there have been a lot of changes in the golf world since then.  Gone are the waiting lists at most clubs which has meant that committees up and down the country have had to rethink their strategy for attracting and keeping new members – both male and female.
Many golf seasons ago, when I was editor of a golf magazine in the South of England, I corresponded with the late Preston Lockwood.  It was shortly after his star appearance in 'The Golf Club'.  Alas, he died on 24 April 1996, just two years later.  Earlier this week, I came across this very charming letter from him.  Now that is the joy of taking the time to put thoughts down on paper rather than sending an email as we are so prone to doing these days – you have something tangible.  I can just picture Preston sitting down behind one of those lovely old Remington manual typewriters to tap out his letter of reply.  What a delight to imagine his expressive Shakespearian-like fingers lightly and meticulously pounding the keys!  This is what he wrote:
"Dear Wendy,
A cold, cloudy day here in N.W. London, made tolerable by your charming letter.  Exactly 49 years ago today, 1st March 1945, the sun shone brightly as I entered Caxton Hall, emerging some time later a married man!  Little did she guess then that for the next almost half a century she would endure talk of birdies, the nineteenth and how I lost on an inferior back nine!
I read right through the mag. in the Golf Club, and having finished up with Tarbuck thought I might well pen a reply to all that.
If it is not enclosed with this letter, then I've torn it up.  Preston"
I'm pleased to say that his enclosure was not filed in the wastepaper basket as it makes fascinating reading.  In his letter, he refers to my article about comedian Jimmy Tarbuck, a single-figure golfer with a great passion for the game, who rates several courses in Sussex among his favourites.
"A day doesn't go by when I don't think about, talk about or play a little golf.  It's the greatest and daftest game of all."
– Jimmy Tarbuck
Preston's letter continued:
"In my present mood, the fanatical devotion to the game by the multi-talented Tarbuck is hard to take. 
"When you are 81 and a registered rabbit on 28, you stare in disbelief at the Jubilee Cup you won in '88, the Veteran's Trophy on your sideboard you achieved the following year, at the framed card announcing a net 65.  Those five medal silver spoons will tarnish but never make a set.  Once they brought you down to sixteen, but now the bushes are full of my tee shots, the mud seeps over my Ultras at the bottom of the burn, while my favourite Latin tags 'Nil Desperandum' and 'Dum spiro spiro'  have given way to calls upon the Deity to get me out of this misery.  If you saw and heard me on Channel Four's 'Cutting Edge' – Golf at Northwood – saying, "I kid myself I'm enjoying it – I HATE the game really", it was the broken hearted clown who spoke.
"Now turned into confetti for the many weddings held at Northwood are hundreds of my torn up cards.  Perhaps the rot set in when I wrote the following for our Golf Club's Centenary Handbook."
YOU CAN READ Preston Lockwood's enchanting poem about golf HERE: 'Stableford'
Before saying farewell to Preston Lockwood and the rather unfortunately portrayed Northwood Golf Club of the Nineties, my curiosity got the better of me.  Did Northwood Golf Club survive the 'Cutting Edge' debacle and the golf 'boom and bust' effect over the last 25 years? If so, how is the club fairing in the 21st century?  In a weird twist of fate, did the TV programme end-up doing the club a favour?  Perhaps a new committee was voted-in after the TV traumas made up of golfers who came with fresh, young ideas which gave the club a much-needed shake-up?
Happily, Northwood GC did survive.  Indeed, in 2016, the club celebrated 125 years of golf at Northwood, Middlesex.  Maybe we'll follow-up on this fascinating tale in a future 'Golf Story'…  Until then, may Preston Lockwood eternally stroll along those heavenly fairways where every ball struck flies long and straight … where birdies and eagles flow like mountain streams and where even rabbit golfers can be assured of a superior back nine!
Rest in peace, dear Mr Lockwood.
Wendy Hoad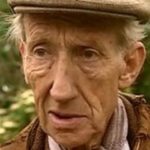 PRESTON LOCKWOOD  
(Born as Reginald Herbert Lockwood)
30 October 1912 – 24 April 1996.
In the heyday of plays on the wireless, Preston Lockwood's tones were inimitable.  He was not only an actor, but also a writer and lecturer.  His TV appearances included Poldark, Doctor Who, Keeping Up Appearances, Rumpole, Miss Marple, All Creatures Great & Small, Poirot and Inspector Morse.
MAIN PHOTOGRAPH:  The cheeky little chappy pictured with his hickory shafted golf club is not Preston Lockwood.